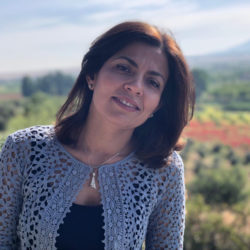 Lama AL-Awad
Dawaer
Lama El-Awad is a founding member of "Dawaer", a Lebanese NGO committed to increasing the resilience of children and youth. Lama has a master's degree in environmental management and has been an activist striving for the achievement of environmental and civil rights in Lebanon. Currently, she is a trainer on Child rights and peace building and advocates for issues related to human rights, gender, diversity and peace and has contributed to the launching of peace building units at the municipal level and to several campaigns aiming at influencing public policies such as the "Campaign against Child Marriage", the "Petition and Complaint" campaign and the reform of the civic education curriculum in Lebanon.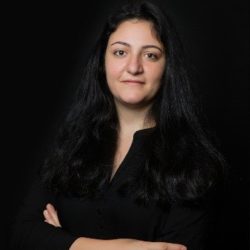 Hayat Mirshad
Fe-male
Hayat Mirshad is a Lebanese feminist activist, journalist, trainer and communications and advocacy expert. Hayat's educational background included Gender in Development and Humanitarian Assistance (GDHA) Diploma from the Lebanese American University- Beirut and BA in English literature from the Lebanese University. She worked and contributed as a writer, reporter, content producer and guest producer for a number of media outlets. Hayat is an advocate for women and girls' rights since 2007, where she coordinated and led various projects and campaigns about gender equality and women's rights in Lebanon. She is a co-founder and co-director at FE-MALE, a non-profit feminist collective, and Head of communications and campaigning at the Lebanese Women Democratic Gathering- RDFL. She is a member in a number of board and consultative committees for different national and international organizations including UN Women and Action Aid. Hayat is a gender, communications and campaigning trainer since 2009, where she managed and conducted more than 50 training workshops with BBC media action, Internews, UNFPA, Women's Learning Partnership- WLP, Euromed Feminist Initiative and YWCA.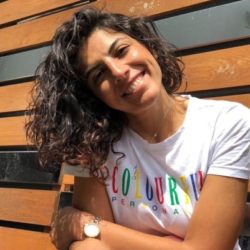 Rouba Abou Ammo
Dawaer
Rouba Abo Ammo is a founding member of "Dawaer", a Lebanese NGO committed to increasing the resilience of children and youth. Rouba has a BA in journalism. During the last 13 years, she worked in several Lebanese and Arab newspapers and websites, and covered different social issues on child rights and human rights and justice, in addition to other international political issues. In addition, she worked as a media consultant for different local and International organizations. Currently, she is a trainer on Social Media, Media Literacy and Mobile Journalism. Also, she started producing mobile videos which are published in an Arab media website, in addition to other social media platforms.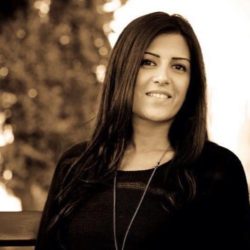 Mariam Al khodari
Fe-male
Mariam Al-Khodari is a feminist activist and holds the position of projects coordination at Fe-Male, a non-profit feminist collective. She holds a Bachelor Degree in Communication Arts with an emphasis on advertising, and is currently working on her Master's Degree in Educational Leadership and Management.